Category: Uncategorized
Yoga clothes are amazingly comfortable. They stretch and move easily, they are made of soft fabric that feels good against the skin, and they are designed for exercise so they're perfect in warm weather. It's really no wonder that people are wearing their yoga clothes outside of their classes more and more, incorporating them into their everyday wardrobe. There is a lot of debate over whether this trend is good or bad, with passionate arguments on every side, but the comfort of the clothing would seem to be a deciding factor. With that in mind, here are some tips for wearing your yoga clothes outside of classes and still look good.
Carefully Choose Where You Wear Them
This obviously must come first. Do not go into a super formal workplace in your yoga pants, or to a black-tie dinner. Yoga pants may work in a few circumstances outside of exercise class, but there is still a ban on them in certain situations. To determine if they are appropriate, you must know the culture and tone of the place you are going into. And, if in doubt, don't wear them.
Make Sure Your Clothes are in Good Repair
This is not an excuse to wear your ugly, holey pants or that T-shirt with stains all over it out in public. For this trend to look good, and not a sign that you are too busy to care for yourself, the clothes must be in pristine condition. No exceptions, no matter how busy you are.
Accessorize Appropriately
Sometimes, it can be the additions that bring the yoga clothes from the gym out to the street. Accessorize to be congruent with the sporty, athletic feel of the clothing while at the same time lifting it above the pure function. This could be as simple as a pair of mirrored sun glasses that carry on the sleek feel of the yoga clothes while lending a more casual touch.
Add a Third Piece to the Look
Don't just walk around in your yoga pants and top, add a third piece to the outfit, such as a jacket or a bold accessory, to give your look instant chic.
Add Layers
Because yoga clothes are usually tight, they are perfect for adding bigger pieces over the top. Whether it is a big jacket or long jumper, layering pieces with more volume over the top can give you a lot of warmth, and make your yoga pants look like a planned part of the outfit rather than a choice made for comfort
Always look your best even in yoga clothes! Shop the above look here.
Choose Neutrals
This is the final tip and it's an obvious one. Whatever other strategies you are going to use to dress up your yoga clothes outside of the gym, most of them won't work if your yoga clothes are brightly colored or have a lot of assorted colors in them. If you intend to wear them as part of a more casual look, it's best to stick to neutral colors so they don't draw more attention than you want them to.
Fashion trends come and go, and the recent trend for wearing yoga clothes outside of classes will probably be replaced with something new soon. But what will not change is that yoga clothes can be amazingly comfortable to wear. This means that ideas for how to make them appropriate in different situations and incorporating them into everyday wear, will always be welcome.
I don't know about you, but I'm a huge fan of gray. My house is decorated with shades of gray, beige and the occasional white. My clothes often end up being white, gray, black, or striped, sometimes with some chambray thrown in there for variety. I think this is because I know that these colors will "go with anything" so they always seem like a safe choice! If I buy something bright-colored or with a bold print, how do I know that it will go with everything? When I purchase yoga attire, I follow the same thought process, but since the weather is becoming warmer and sunnier outside, I'm feeling inspired to add in a little color and print to welcome spring!
The first obvious solution to welcome spring is to just add a pop of color to your regular yoga attire. Last year I found a great bright green tank top that is flattering and also just helps me get excited about the new beginnings that spring brings.
You can also try and change things up with some pattern. Florals have been a popular trend this season and what better way to welcome spring, than with some flowers. I've seen some beautiful and elegant, rose-patterned ballet style yoga pants that I'm dying to try. If bold is more your style than there are some really great tropical floral prints out there too!
I find I get a little more active in the warm spring and summer months; whether that means walking and running more, or doing more vigorous forms of yoga. Either way, it's always a good idea to have a little extra support. You can welcome those spring months with a fun-patterned sports bra or simply just a bright-colored one. I love wearing a neutral top and then being able to see a little bit of a pop of color or print in the back!
I have a hard time buying something just because I think it's pretty. It has to have some functionality as well. With warmer weather approaching or if you're taking hot yoga classes, the material and type of yoga attire become increasingly more important. Cotton is more absorbent and gets heavier when you sweat. You want something that will keep sweat away from your body not only because it doesn't stick to you but also to avoid issues like chafing. The best breathable materials are made of polypropylene, spandex, polyester blends, or wool. Wool is a better option for cooler weather. Wearing clothing that is breathable and comfortable will help you get excited about yoga and working out this spring.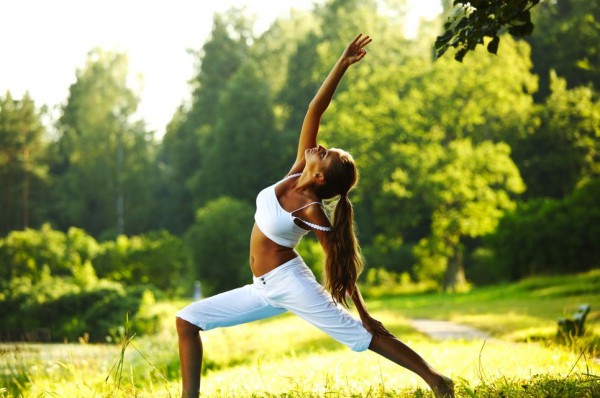 Spring is one of my favorite seasons because it seems to bring a renewed spirit and excitement to everyone. It's an opportunity to take advantage of the nice weather, and achieve any fitness goals you may have. Yoga, in general, is just a great exercise that helps you embrace change and new opportunities. Try and welcome the new season with some new clothes that pop in color and are also functional!