I don't know about you, but I'm a huge fan of gray. My house is decorated with shades of gray, beige and the occasional white. My clothes often end up being white, gray, black, or striped, sometimes with some chambray thrown in there for variety. I think this is because I know that these colors will "go with anything" so they always seem like a safe choice! If I buy something bright-colored or with a bold print, how do I know that it will go with everything? When I purchase yoga attire, I follow the same thought process, but since the weather is becoming warmer and sunnier outside, I'm feeling inspired to add in a little color and print to welcome spring!
The first obvious solution to welcome spring is to just add a pop of color to your regular yoga attire. Last year I found a great bright green tank top that is flattering and also just helps me get excited about the new beginnings that spring brings.
You can also try and change things up with some pattern. Florals have been a popular trend this season and what better way to welcome spring, than with some flowers. I've seen some beautiful and elegant, rose-patterned ballet style yoga pants that I'm dying to try. If bold is more your style than there are some really great tropical floral prints out there too!
I find I get a little more active in the warm spring and summer months; whether that means walking and running more, or doing more vigorous forms of yoga. Either way, it's always a good idea to have a little extra support. You can welcome those spring months with a fun-patterned sports bra or simply just a bright-colored one. I love wearing a neutral top and then being able to see a little bit of a pop of color or print in the back!
I have a hard time buying something just because I think it's pretty. It has to have some functionality as well. With warmer weather approaching or if you're taking hot yoga classes, the material and type of yoga attire become increasingly more important. Cotton is more absorbent and gets heavier when you sweat. You want something that will keep sweat away from your body not only because it doesn't stick to you but also to avoid issues like chafing. The best breathable materials are made of polypropylene, spandex, polyester blends, or wool. Wool is a better option for cooler weather. Wearing clothing that is breathable and comfortable will help you get excited about yoga and working out this spring.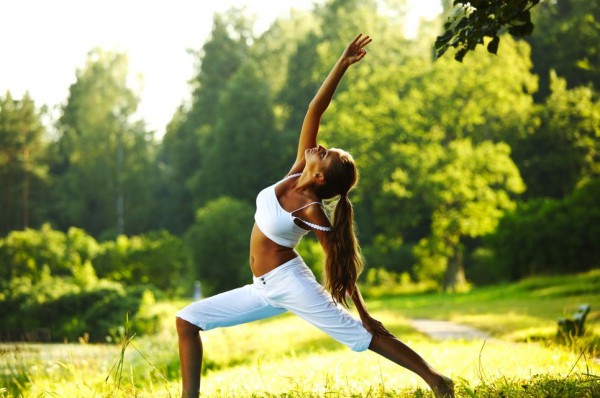 Spring is one of my favorite seasons because it seems to bring a renewed spirit and excitement to everyone. It's an opportunity to take advantage of the nice weather, and achieve any fitness goals you may have. Yoga, in general, is just a great exercise that helps you embrace change and new opportunities. Try and welcome the new season with some new clothes that pop in color and are also functional!